Check out this great list of 50 classic Christian movies.
Based on the novel Left Behind by Tim LaHaye and Jerry B. Jenkins, the movie was remade and released in 2014 and stars Nicolas Cage. A small number of survivors are left behind after millions of people disappear without a trace, and the world is thrust into chaos and devastation. It is like the retelling of the Rapture, the term that refers to a Biblical prophecy where the faithful Christians ascend into Heaven before the Second Coming of Jesus Christ to earth.
An adaptation of the novel of the same name by William Edmund Barrett, this 1963 film starred Sidney Poitier. It tells of a traveling handyman/jack-of-all-trades who becomes the answer to the prayers of a group of German nuns who wish to build a new chapel in the desert.
a href="https://onlyonehope.com/wp-content/uploads/2015/08/The-Gospel-Of-John.jpg">
The Gospel of John is a 2014 film featuring the life and hardships of Jesus Christ, as precisely illustrated in the Gospel of John.
Letters to God is a faith-based drama filmed in 2010, which tells the true story of Tyler Doherty, an 8-year-old boy suffering cancer who writes letters to God. His actions touch the lives of people around him and inspire hope among the people Tyler encounters.
The Work and the Glory is a 2004 film. It weaves a fictional account about a family who struggles to accept a newly established religion (Mormon) that threatens to tear their relationship apart. It also affects the relationship of their own community.
Last Ounce of Courage is a 2012 film that recounts the story of a man who feels that his freedom of religion is under threat by local politicians and starts a controversial protest.
One of the most critically and commercially successful faith-based (and sports) films, Chariots of Fire was released in 1981. Based on a true story, it tells a story of two runners — one a devout Scottish Christian who runs for God's glory, and an English Jew who runs to overcome discrimination — who both compete in the 1924 Paris Olympics. The film won four Academy Awards, including Best Picture and Best Original Screenplay.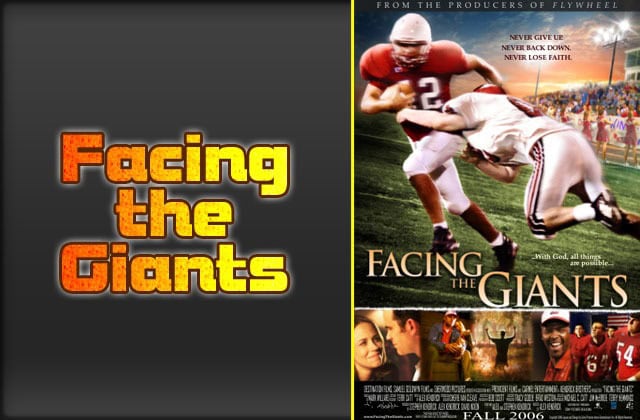 Facing the Giants is a 2006 film directed and starred by Alex Kendrick. It tells the story of an underdog football team and their winless coach. But with their new spiritual "game strategy," they manage to face the "giants" — fear and failure — with a stunning outcome.
The Hiding Place is a 1975 historical film retelling the real-life story of Corrie ten Boom, a Christian who helped Jews escape from the Nazis during the Second World War. It also recounts her capture and imprisonment at the concentration camp, as well as her eventual survival. The film was based on ten Boom's autobiographical book of the same name.
One Night with the King is a 2006 celluloid dramatization of a Biblical story. A young Jewish girl named Esther risks her life to appeal to the King of Persia that he save her own people from annihilation by their enemies.
To Save a Life is a Christian drama film, released in 2009. It tells the story of a popular schoolboy named Jake who is affected by the death of his former best friend. This leads Jake to wonder if he were a better friend, if it could have prevented his ex-best buddy from suicide. Now Jake must risk his popularity in order to help other bullied and shunned kids, like his late friend had also been.
Luther is a 2003 biopic recounting the story of the key figure of the Protestant Reformation. It covers Martin Luther's life from his years as a monk up to the Diet of Augsburg.
Hell and Mr. Fudge is a 1970s faith-based film, based on a true story. A young Alabama preacher sees his faith challenged as he has been hired to prove the existence of Hell.
The Frontier Boys (2012) is another Christian movie about four high school buddies and their undefeated basketball team, and an event that practically changes their friendship and their lives. All goes pretty well for them until a drive-by shooting leaves one of them in a coma and one of them keeping a secret. The movie was based on a novel by John Grooters.
Billy: The Early Years (2008) is a biopic portraying the world-famous American evangelist Billy Graham, and his early life (the mid-1930s to mid-1940s).
Another film portraying the Rapture, In the Blink of an Eye, is a 2009 film directed by Michael Sinclair. Following the detectives' saving a missing pop singer, her manager invites him for a weekend holiday in Mexico on his own yacht. The vacation could have been perfect, but it goes horribly wrong when his wife and friends have disappeared.
The Second Chance is a 2006 faith-based film, where popular Christian contemporary singer Michael W. Smith made his acting debut. Two pastors — one white and one black, whose own backgrounds and lifestyles contrast each other —  are thrown together at a declining urban church where they're assigned. These two men are forced to work together and not surprisingly they have conflicts with each other. They must overcome and bridge their differences and prejudices in order to resurrect the struggling church.
Five different people, who experience the hardships and feelings of despair and loneliness, cross paths with each other on Christmas Eve. Never in their wildest thoughts would they believe that their small and random acts of kindness to each other would dramatically change their lives. Midnight Clear was released in 2006 and starred Stephen Baldwin.
What If… is a Christian drama film released in 2010 film whose inspiration was taken from It's a Wonderful Life and The Family Man. Fifteen years ago, a man leaves his college girlfriend and his ministry in order to pursue a business path. Now he enjoys a high-salaried career and a beautiful but worldly girlfriend. He seems to have everything he wants until an angel visits him and gives him a peek into what his life could have been had he never left his former life and love.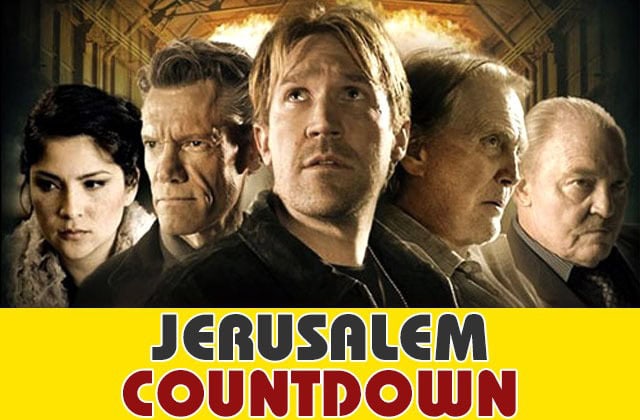 Jerusalem Countdown is a 2011 thriller film adapted from John Hagee's best-selling novel of the same title. Terrorists have smuggled seven nuclear weapons throughout America. Two FBI agents must find all the weapons before they detonate. This is a task that they find to be impossible as they are literally racing for time.
Ancient codes within the Torah uncover the secrets of world events of the past, present, and future. A media tycoon (who is also the Antichrist) goes after the code in his plan for world domination, and a famous author/motivational speaker risks his life and everything he has in order to stop him. The Omega Code is a thriller film released in 1999 and stars Casper Van Dien and Michael York.
Seven Days in Utopia is 2011 is a Christian drama/sports film about a young golfer who, after a catastrophic debut, suddenly finds himself in Utopia, Texas. There, he encounters a rancher who gives him valuable words of wisdom, which the golfer would apply in his next golf tournament.
Christian films need not always to leave you teary-eyed. There's a faith-based comedy titled Moms' Night Out, released in 2014. Overworked moms go for a night-out together, but this isn't what they expect for a fun night of mom bonding. Their husbands are left at home to look after the kids, with predictably disastrous but funny results.
Grace Unplugged (2013) is a Christian musical drama film about a teen who is also a phenomenal singer. After having gotten tired of singing the same songs in their church, she leaves her home and her family in order to pursue a singing career in Hollywood. At first, she enjoys all the fame and fortune but then she encounters the "real world" which tests her faith.
Babette's Feast is a world-renowned Danish drama film released in 1987, and its Danish title is Babettes gæstebud. It tells about the lives of two pious sisters, who live an austere life and have chosen to take care of their minister father despite having opportunities to leave the village. Over three decades after their father's death, a woman named Babette enters as their housekeeper and cook, preparing bland meals typical of the ascetic nature of sisters and their congregation. One day, however, Babette receives unexpected good fortune. She decides to spend it on preparing a sumptuous French meal for the sisters and their congregation on their father's 100th birthday. The meal proves to be an eye-opener for the guests involved.
The Other Side of Heaven is an adventure/drama film starring Christopher Gorham and Anne Hathaway. Based on a true story, the film chronicles the life of a Mormon missionary in the remote and exotic islands in Tonga during the 1950s.
Jesus Christ Superstar (1973) is a musical film based on the famous rock opera created by Andrew Lloyd Weber and Tim Rice, retelling the final few weeks of Jesus Christ's life.
The End of the Spear is a 2005 documentary/drama film recounting a real-life story of the five American missionaries attempting to evangelize an indigenous tribe in the rain forests of Ecuador.
Courageous is the 2011 Christian film written by Alex Kendrick, who also stars. It follows the story of four police officers who attempt to put their faith to God after a sudden tragedy that occurs in their town. Together they must make the ultimate decision that will transform their lives forever.
Probably the most famous work by German director Wim Wenders, Wings of Desire (1987) follows the story of immortal angels who watch over humans in Berlin and can probe into their thoughts. One angel falls in love with a lovely but lonely trapeze artist, so he wishes to become mortal so that he could feel human love.
Tender Mercies is a drama film that focuses on an alcoholic, troubled, middle-aged country music singer who seeks to change his life by remarrying a young widow, reaching out to his estranged daughter, and to pick up the pieces of his troubled life.
The screenplay, written by Horton Foote, was rejected many times by a number of American directors before an Australian director Bruce Beresford accepted it. Tender Mercies stars Robert Duvall, who won an Oscar for his role.
Faith Like Potatoes is a 2006 South African drama based on the true experiences of Angus Buchan, a farmer who leaves Zambia for South Africa due to political unrest and land reform troubles. The film chronicles Buchan's challenged Christian faith during that period.
Heaven Is for Real is a 2014 drama film based on the best-selling book by pastor Todd Burpo and Lynn Vincent. It is a story about a four-year-old boy and his near-death experience while having surgery. It is at this point where he sees and experiences Heaven, where he even met his late grandfather and his unborn sister.
Soul Surfer is a biopic and sports drama film about the ordeal of a surfer after a terrible shark attack and her path to recovery. Released in 2011, the film was based on an autobiographical book written by Bethany Hamilton.
Son of God is a 2014 celluloid retelling of the life of Jesus Christ, an adaptation to History Channel's own miniseries The Bible.
Do you believe there's a God? Well, you might like the answers in this 2014 Christian drama film God's Not Dead. A young evangelical college student and his atheist professor stand on a debate to prove whether there's a God or there isn't.
One of the most beloved films of all time, The Sound of Music is a 1965 musical movie adapted from the Tony Award-winning musical of the same name. It is based on the lives of a young woman Maria and the von Trapp family. Intending to become a nun, Maria is sent to work as a governess for Captain von Trapp's seven children…and well, you pretty much know what happens (you've probably watched it many times!). Memorable scenes and songs make this film truly a classic with strong moral values to impart to the audience.
A Man for All Seasons is a 1966 biographical/historical drama depicting the life of Sir Thomas More, who refused to support Henry VIII's decision to break away from the Roman Catholic Church. King Henry wanted to divorce his first wife and marry another woman, which the Roman Catholic Church said he could not.
Fireproof is a Christian drama film, a surprise commercial hit when it was released in 2008. Directed by Alex Kendrick and starring Kirk Cameron and Erin Bethea, it tells about the failing marriage between a firefighter and his wife, a hospital administrator. In an attempt to save their union, he enters into a 40-day challenge called "The Love Dare." The film has won many awards from various Christian evangelical bodies.
Undeniably a film classic and standard Holy Week fare, Cecile B. DeMille's 1956 movie The Ten Commandments is one of the first truly modern epic films to come out. Starring Charlton Heston and Yul Brynner, it tells about the life of Moses, an Egyptian prince who comes to discover his true ancestry as a Hebrew and his spiritual mission as the deliverer of his own brethren. Of course, Moses' parting of the Red Sea remains one of the unforgettable movie scenes of all time.
Trivia: Did you know that De Mille's Technicolor/sound version of the film is actually his second The Ten Commandments outing? He directed the first The Ten Commandments way back in 1923, which is a silent film version.
Mel Gibson's The Passion of the Christ (2004) follows the Passion of Jesus Christ — the final 12 hours of his life that covers from his visit in Jerusalem up to his crucifixion. The film has gained notoriety for its extreme violence which critics accuse is masking its true message. However, the film was a box-office hit worldwide, pulling in over $611 million during its theatrical run.
The Nativity Story is a 2006 biblical drama retelling the journey of Mary and Joseph to Bethlehem and the birth of Jesus Christ. It had its world premiere in the Vatican City, is the first film to hold a world premiere in the Holy See.
Ben-Hur is an 1959 epic historical drama directed by William Wyler and starring Charlton Heston, who also starred in The Ten Commandments. A Jewish prince named Judah Ben-Hur experiences betrayal by his Roman friend and becomes a slave. The moment he gains freedom again, he returns for revenge. Ben-Hur's nine-minute chariot race in a Roman arena remains one of the classic sequences in film history. Its theme music, composed by Miklos Rozsa, is the longest score ever composed for the celluloid.
The Chronicles of Narnia fantasy film series is based on a series of novels by C.S. Lewis. It centers around four children thrust into the magical world of Narnia, led by the lion Aslan, the king of Narnia. They fight against the forces of the White Witch who puts the world in eternal winter.
There lies a deeply Christian message behind the fantastic storytelling. The lion Aslan's sacrifice, death, and return to life mirrors that of Jesus Christ's suffering, death, and resurrection. So far films have been made of three of the seven novels, with the fourth movie The Silver Chair slated to be released sometime in 2016.
Directed by Roland Joffe, The Mission is a period drama film that chronicles the life of Spanish Jesuit missionaries in South America during the 19th century.
Dead Man Walking is a 1995 drama film about a convicted killer on death row in Louisiana and the nun who acts as his spiritual adviser. It is based on a non-fiction book of the same name written by Sr. Helen Prejean, recounting her own experience as a spiritual adviser to two convicted killers on death row.
Noah is a 2014 film directed by Darren Aronofsky and stars Russell Crowe in the title role. It is adapted from the story of Noah's Ark in the Old Testament. Noah is chosen by the Creator to embark on a huge, fateful mission before the apocalyptic flood deluges the world.
Directed by Martin Scorsese, The Last Temptation of Christ is an epic drama adapted from a novel by Nikos Kazantzakis. Similar to the book, the film follows the life of Jesus Christ who encounters the struggles of temptation as all mortals do (including lust). This makes the film too controversial for many people causing it to be banned in some countries.
The Ultimate Gift is a 2006 film based on a best-selling novel by Jim Stovall. A spoiled young man is going to inherit his deceased billionaire grandfather's fortune, but with a condition: he must complete a series of tasks to be able to receive the "ultimate gift." Resentful, he nevertheless goes on to perform these tasks while he has no idea what the ultimate gift might be.
The Greatest Story Ever Told is a 1965 epic drama film recounting the life and times of Jesus Christ, from his birth up to his crucifixion. The film is known for its large cast, and running time (over two hours). The movie starred Max von Sydow, Dorothy McGuire, Charlton Heston and many other well-known actors of the time.